Tuesday, January 23, 2007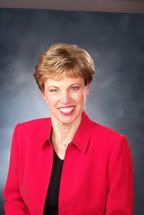 Jeannie Cook
C21 Leading Edge
Marham, Ontario, Canada
www.jeanniecook.com
Jennie has 20 years of extraordinary success in her real estate career. She currently holds an Associate Broker designation. With her in-depth knowledge and skills in these areas, Jennie continues to earn the trust and smiles of her clients, sometimes several times, as they and their families grow. As well as being the #1 CENTURY 21 Sales Representative in Canada for six consecutive years, Jennie is also a member of the elite CENTURY 21 International and Canadian Hall of Fame. She has sold over $375 million in real estate and over 2100 homes.
What is your personal background and how did you get into real estate?
"I was a real estate receptionist in the evening. I did that for seven years because I had small children at home. I received my license in 1981 and fell in love with the business and never looked back."
What lessons did you learn from your family, friends, previous jobs, and life experiences that helped you most to succeed in your career?
"One of the main things was caring. I have a very caring philosophy and have a theme 'work with someone who cares.' I always put myself in the position of the client. Building trust is important. I surround myself with successful people. I learned very quickly that having a mentor was very important."
What do you enjoy most about the business?

"People. I love building relationships with people. I like helping first time homebuyers. I love the interaction with people; it is so rewarding to see them so happy. I always put my clients first, and foremost."
Do you believe goals are important to your success?
"Absolutely! I believe you need to set short-term and long-term goals. They must be in writing. You must review them. I pay particular attention to monthly and yearly goals."
What single quality has made you more successful than others?
"I am a people person. I am a good listener. I ask my clients to talk to me about their needs and wants."
Did you make any big mistakes that you want to warn others about?

"Getting involved with negative people is a big mistake."
Want to learn about a Marketing Promotion that Jennie claims "was the best thing she ever did' and led to 12-15 transactions a year from that specific area? In the book
"Billion Dollar Agent –
Lessons Learned"
she shares her best promotion tips with Steve Kantor. In the book she also lists 6 things she believes the average real estate agent fail to do, leaving them "just average". You will want to read the book so you won't be making these mistakes. You can get your copy of the newly published paperback by emailing your request to:
editor@billiondollaragent.com
.